Posted by David Greer in Business, Leadership, Strategy | 2 comments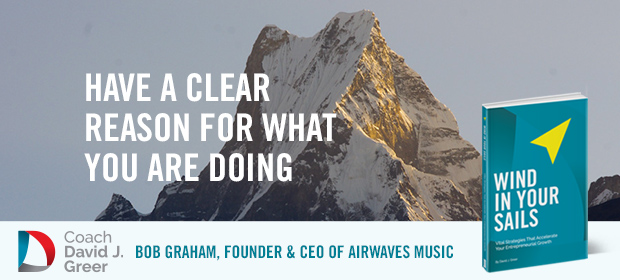 19.05.15
Bob Graham is a classic entrepreneur who started his first enterprise mowing lawns and teaching guitar in his neighborhood. After a succession of jobs, Bob realized he only had one life to live. A chance encounter led him to found Airwaves Music and grow it into Canada's leading DJ company.
Bob has always worked hard at everything he has pursued. While successful at dozens of jobs, he was never fulfilled in any of them. He learned guitar as a teenager, played in bands, and was hired by a former boss to play at his daughter's wedding. Shortly afterwards Bob met up with Lester, a friend of his who worked as a DJ. While Bob made around $150 as a classical guitarist playing at weddings, he learned that Lester made $1,000 per wedding. Lester's problem was that he wasn't familiar with the business of running a company or marketing his DJ services.
Sensing an opportunity, Bob made a deal with Lester. He would market Lester's DJ services and they would split the fees. Bob realized his purpose was to help his friend, while also helping customers who needed DJ services. While Bob started opportunistically without a plan, his focus on outstanding customer experience made Lester and him successful. This success led to Bob founding and growing Airwaves Music.
Bob saw an opportunity, stepped into it, and created a fresh and innovative new way to meet the music needs of couples getting married in Canada. From his early opportunistic success, Bob has grown the business strategically while staying true to his original purpose for founding Airwaves Music in the first place, providing us with these thoughts:
From the beginning, have a clear reason for what you are doing.
To accelerate growth, focus on the strategy, systems, and measures that drive your business.
Always stay curious, being prepared to continuously experiment, measure, and adjust your business as you grow.
Attract people who naturally fit together—both as customers of your service and as the providers of that service.
Stay focused on your long-term objectives, while being clear on what you need to measure today to be successful.
Bob has challenged an industry by putting together 300 outstanding DJs who deliver awesome wedding experiences to couples in Canada as well as nightclubs, restaurants, and top brands every day of the week.
These insights were taken from the Corporate chapter of my book Wind In Your Sails: Vital Strategies That Accelerate Your Entrepreneurial Growth. Learn more at windinyoursails.coachdjgreer.com.
Tags
:
attract
,
curious
,
Entrepreneur
,
growth
,
people