Posted by David Greer in Communication | 0 comments
14.04.16
I am celebrating the one-year anniversary of the launch of Wind In Your Sails: Vital Strategies That Accelerate Your Entrepreneurial Growth. Written by entrepreneurs for entrepreneurs, Wind In Your Sails shares the thinking and hard-won expertise of both my career and ten other entrepreneurs.
During the launch of Wind In Your Sails and during the last year I have been fortunate to be able to write for many other blogs and platforms. I want to acknowledge all of the people who were kind enough to allow me to write for their blog.
Becky Robinson and the team at Weaving Influence were my rocks all through the launch of Wind In Your Sails including this post Featured On Friday: #WindInYourSails Author @Djgreer.
On Jane Anderson's Talk Kindness To Me I wrote Growing A Business.
Chantal Bechervaise's hosted my post People and Culture on her Take it Personel-ly blog.
My long-time friend and marketing expert Guy Smith writes on Silicon Strategies where I wrote Handling Influencers.
The Kings Town Project is a blog by Joshua Lee Henry. He hosted my post Transform Yourself With These Examples from Wind In your Sails.
Luke Aulin continues to build his RTOWN platform and let me post Wind In Your Sails Shows How Brand Promise Creates High Growth on his blog.
I wrote Becoming A Conscious Leader on The Strategic Learner—the blog of John E. Smith.
Steven Forth continues to build Team Fit where I wrote The Team Performance Perspective.
The HR Goddess Jane Perdue published Use wind in your sails to accelerate your leadership on the Braithwaite Innovation blog Lead BIG.
Jon Mertz has impact in his Thin Difference: Leaders Connected by Purpose blog where I wrote Entrepreneurs in the Information Age.
It was anything but a random act of leadership when Susan Mazza hosted my post Values Based Leadership in 'Wind In Your Sails' on her blog of the same name.
Over at About.com I wrote Stay Stuck or Grow.
On Networking Times, you can read 6 Proven Ideas to Accelerate Your Sales.
I am an Instigator on The Lead Change Group and regularly write posts which you can find here.
You can read all of my posts on The CEO Magazine here.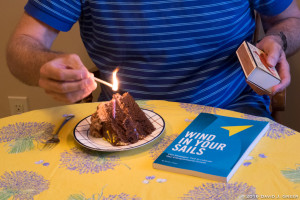 It has been a blast to celebrate the one-year anniversary this week. Thank you to everyone who let me write on their platforms. It has been a gift to be able to share my writing with your audience. May all of you have wind in your sails.
Tags
:
anniversary
,
blogs
,
celebrate
,
gratitude