Posted by David Greer in Marketing, Strategy | 0 comments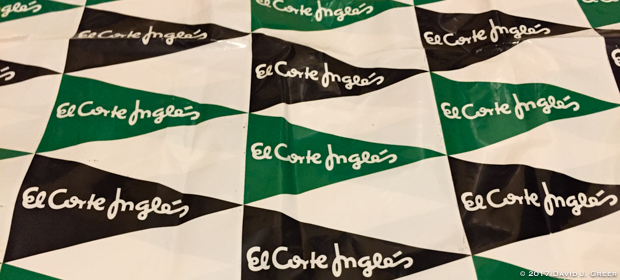 30.01.17
There are many in business who talk about providing outstanding customer service. Then there are those who put in the systems, hiring, training, and attitudes that really do result in amazing customer experiences.
Karalee and I were recently in Barcelona. We visited El Cortes Ingles, the large Spanish department store that has a nine-story showcase store at the top of Las Ramblas in Barcelona. Both Karalee and I have very fond memories of that particular store.
In 2001, we were living on our sailboat in Port Vell, the old marina of Barcelona, with our three children. It was our first Christmas away from Canada. That year El Cortes Ingles had scooters on display for Christmas. These were perfect for our kids. I can remember Karalee and I visiting El Cortes Ingles, speaking English to a very helpful sales person, who not only sold us three scooters, but individually wrapped each one.
Wrapping purchases is just one of the things that makes El Cortes Ingles stand out. Any cashier will be happy to wrap your purchase. It enhances the customer experience and since they seal the wrapping with a small sticky circle with the El Cortes Ingles logo, it is smart marketing too.
Fast forward to the fall of 2016–fifteen years later. I had forgotten my blazer back in Vancouver and needed one for our trip. Karalee and I went back to El Cortes Ingles, headed up to the second floor, where a nice gentleman asked me what I needed. I explained what I was looking for, in English of course, and off he went bringing me sample after sample of blazers for me to try on.
You have to remember that I'm 6′ 2″ tall. Even in Vancouver it can be a challenge for me to find clothes that fit me. When I mentioned this, the sales person casually said "We get a lot of American tourists and make sure that we have sizes that will fit them." El Cortes Ingles knows their market.
I did find a nice blazer that fit, the price was excellent, although the sleeves were just a little bit short. At the checkout I asked about tailoring the sleeves. It would take a week for El Cortes Ingles to lengthen the sleeves and we were leaving before then. My friendly sales person then recommended a tailor a few blocks away and showed me exactly how to get there.
Before finishing the transaction, my sales person asked me if there was anything else I needed. For over a year, I have been looking for a light-colored winter jacket in Vancouver, with zero success. I mentioned this and before I know it, I was whisked around the men's department, finding a perfect winter jacket that fit me right off the hanger.
As I was paying for the two jackets, the sales person asked if I had an El Cortes Ingles loyalty card. He let me know that if I went back to the ground floor and got one, he could give me 25% off one of my jackets immediately. There was no problem for him to wait for me to go and come back, which I did, with yet another pleasant experience at the front desk to get my loyalty card.
Every single interaction I had that day at El Cortes Ingles in Barcelona make me feel special like I was the one customer they had all been waiting for in order to serve. I know what incredible consistency it takes to infuse an organization, especially one as large as El Cortes Ingles, with such a powerful customer service ethos.
This was not our first time back to Spain. Every trip there we have visited El Cortes Ingles. Whether it was our 2001 memory of scooters for the kids or my recent experience, the Barcelona flag ship store will always have a special place in my heart. My only regret–I forgot to get the name of the gentleman who looked after me so well.
How can you make your customers feel special?
Tags
:
customer
,
El Cortes Ingles
,
excellence
,
service