Posted by David Greer in Business, Marketing | 3 comments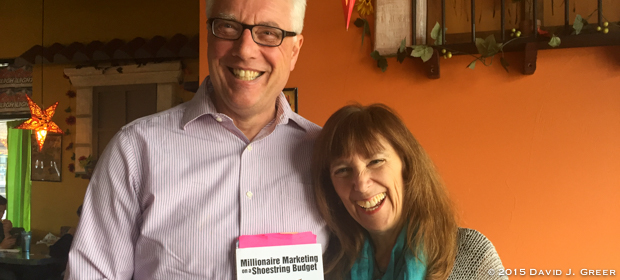 19.11.15
I recently finished Debra Jason's book Millionaire Marketing on a Shoestring Budget and had the great pleasure of meeting her in her home state of Colorado. She is as positive and delightful in person as she is in the pages of her book. If you want to create success in your business, wherever you are located, buy and read Millionaire Marketing.
Filled with practical advice in every chapter, you will come away with concrete and affordable actions to improve your marketing so that you can:
Generate more leads, without a hard core sales pitch
Create more exposure for your business–for free
Have your existing customers refer people to your business
And so much more
If you are feeling overwhelmed by social media, press releases, and marketing in general, you will feel in control after reading Millionaire Marketing. Debra shares her 25 years of building her own business and helping entrepreneurs build their businesses. Every chapter ends with exercises that will let you discover those actions that will work for you to create the success that you want in your business.
What I really like about Millionaire Marketing is that Debra focuses on you the entrepreneur and how you might be holding yourself back. I know from my own entrepreneurial experience that it was often my own thoughts and beliefs that were the biggest roadblocks to the success that I wanted to create. In addition to all the practical steps Debra shows you, she ends with the chapter "Giving Up Is Not An Option—Eight Secrets for Succeeding in Business". In my own entrepreneurial journey, I've had to learn her eight secrets. I just wish that Millionaire Marketing was available earlier, so that I didn't have to learn the secrets the hard way.
If you want to grow your business, buy and read Millionaire Marketing on a Shoestring Budget right now.
Tags
:
leads
,
PR
,
referrals