Posted by David Greer in Business, Growth, Leadership | 2 comments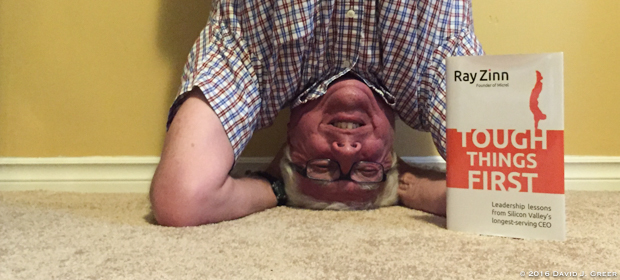 30.06.16
An outline of Ray Zinn doing a hand stand is featured on the cover of his new book Tough Things First. While I can't do hand stands, I did do a head stand in honour of Ray and his book.
A Driven Entrepreneur
Ray tells a highly personal story of his path to becoming the longest serving CEO in California's Silicon Valley. We learn how he ended up naked in his father's ranch office and the life lesson he took from that experience. What it was like to almost fly a plane into the side of a mountain. How Ray lost most of his vision the week before Micrel was doing its IPO. Through all of these challenges Ray's personal nature and care for his employees shines through.
People and Culture
Story after story after story in Tough Things First shows Ray's commitment to the people who worked for him. He had the patience to help people grow, when he deeply believed in their potential, including the highly talented executive who couldn't control his swearing. Ray found a way to help people fit into the Micrel culture he created, while not being afraid to let go the ones who didn't fit.
Discipline
The principal thesis of Ray's book is that entrepreneurs have to have discipline. We must be prepared to do those things that we do not naturally like to do. Ray loves the chip manufacturing process. He founded Micrel because he had a vision for wafer steppers that his existing employer didn't believe in. While this vision launched Micrel, it was Ray's discipline to focus in on the unexciting parts of the business that created the lasting success of Micrel. He became expert at reading financial statements. Weekends were spent drafting and creating policies and procedure manuals so that all employees around the planet worked to a similar set of rules and country managers knew which part of the policies could be adjusted for their people and locale.
Finance
From the get go, Ray decided not to take outside investment, especially VC money. He put all of his family assets on the line, convincing banks to lend him his seed capital. This forced Ray to be profitable from the very inception of Micrel, building a financial discipline that continues today. As Ray says "My neck was on the line.", something few entrepreneurs are prepared to do. Ray believes that VC's limited timelines and investment model do not create the environment for long lasting success.
There is so much more in Tough Things First. If you are an entrepreneur and want to build a successful long-lasting company, make sure that you buy, read, and implement the ideas that Ray shares with us.
Tough Things First is available on Amazon.com, Amazon.ca and Amazon.co.uk.
Tags
:
culture
,
discipline
,
finance
,
Micrel
,
people