Posted by David Greer in Customer Service, Marketing | 0 comments
13.04.17
Standing in our front hallway I was ready to head to the airport. I needed a cab to get me there, so out came my iPhone, into Google I went, and typing "call yellow cab vancouver" I pressed the number Google showed me without a second glance. I was surprised that rather than be put on hold a voice answered immediately and said:
"Black Top Cabs, David speaking"
Puzzled because I was expecting yellow cabs, I went ahead and responded:
"Morning David, I'm David too."
Having found this connection point, the David from Black Top asked for my address and continued:
"From your address, I know the area well. I agree up in the same hundred block on 18th."
To which I replied:
"You must have gone to Carnarvon Elementary."
The school is a half block from our house. Black Top David replied:
"I sure did. Then I went to Kits High School."
I work out at Kits Community Center three times a week which is right next to Kits High School. The whole conversation took less than 30 seconds and it put me completely at ease. We finished the call with David telling me:
"This time of day for your address, you should expect a cab to be there in less than ten minutes."
There are two equally important things going on here:
When I typed Yellow Cabs into Google, I expected Yellow Cabs to show up. The fact that Black Top showed up instead is a tribute to the cleverness of Black Tops search engine optimization.
Having got me on the phone, their call centre is trained to be friendly and to look for ways to connect with the client.
Search Engine Optimization
When I work with clients on their marketing strategy, I often ask "what words do you own?" Much of the time, people find you via a search in Google. What are the phrases where you show up more than any of your competitors in searches?
Black Top Cabs whole branding strategy is to be an alternative to the ubiquitous Yellow Cabs. That is why their cabs are painted yellow with the black tops being the only feature that distinguishes them from their competitor.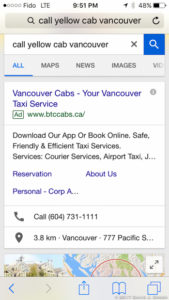 You would think that Yellow Cabs would own the all the phrases to do with "yellow cabs vancouver" in Google. If you look closely at my Google search, you'll see that Black Top shows up first in the search as a paid advertisement. That's how I ended up calling Black Top. Clever.
Making the Connection
When I called Black Top, the dispatcher David would not have known that I was expecting to call Yellow Cabs. Then again, maybe that is their default assumption, since their branding strategy is to position themselves as the alternative. Either way, David went out of his way to be friendly and to create connection points with me. Their brand strategy is backed up by employees who create outstanding customer experiences, further differentiating Black Top from their competitors.
It worked for me. As promised, the cab was there in less than ten minutes. I head a pleasant ride to the airport. In the future, I'll type "call black top vancouver" into Google when I want to a cab. Guess what? Black Top's phone number also shows up as #1 on my phone for that search too.
Tags
:
brand
,
connection
,
seo