Posted by David Greer in Leadership, Strategy | 0 comments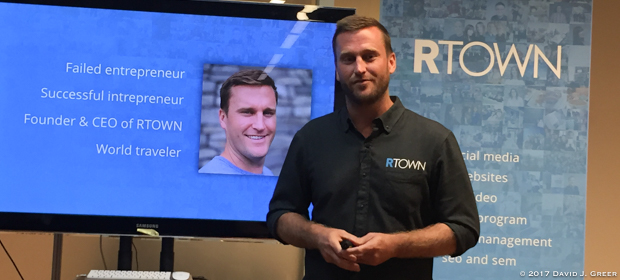 14.09.17
I recently attended a presentation by RTOWN co-founder and CEO Luke Aulin. What I liked about Luke's presentation is how he showed us all the ways in which he brought alive his planning and execution ideas in RTOWN. Luke founded RTOWN with a single purpose:
"To help local businesses succeed."
Luke believes that the who-decisions, that is who you hire and how you help your people grow and succeed, are the most important ones in any business. RTOWN has a set of core values that everyone acts on, from Luke to every employee in the company. Their core values spell TRUST:
Team over individuals
Remarkable customer and team experience
Uncover a better way
Surplus for a purpose
Trust
In his presentation, Luke reminded us of this quote:
"1% Vision, 99% Alignment" –Jim Collins
At RTOWN they get alignment through:
Annual and quarterly strategic planning. The entire company meets off site for 2-3 days to do their annual planning. Because RTOWNers are distributed, the annual planning event is one way for everyone to connect on a deeper level.
Learning which key productivity indicators matter and setting ambitious goals for the key metrics.
Sharing the financials across the company and teaching everyone what the numbers mean and how they impact them.
Daily huddles, weekly team meetings, and monthly town hall meetings discover where people are aligned or not, while setting the priorities for the day, week, or month.
What really stood out in Luke's presentation is that he makes sure there is fun. That includes putting himself out there. If RTOWNers hit their numbers this year Luke will do a bungee jump in a unicorn outfit (okay–you needed to see his presentation to see how funny this is). I appreciated that Luke took the time to prepare and present what has created RTOWN's success so that other entrepreneurs can succeed. A perfect example of Luke living their purpose–helping local businesses succeed.
Tags
:
alignment
,
culture
,
fun
,
purpose