Posted by David Greer in Business, Downturn, Marketing, Strategy | 0 comments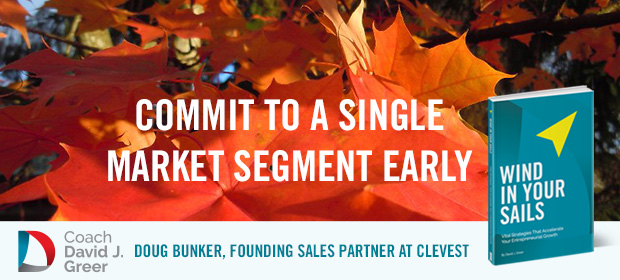 26.05.15
For Doug Bunker, the founding sales and marketing leader of Clevest, the third time was indeed the charm. With co-founders Tom Ligocki and Arthur Lo, they set out to transform workforce automation and mobile dispatch for small and mid-sized organizations.
MDSI (Mobile Data Solutions Inc, now part of ABB) was a pioneer in creating Advantex, an automated workforce management and dispatch solution that integrated with mobile communication devices suitable for mobile employees. Doug, Tom and Arthur all worked for MDSI. As young technologists and entrepreneurs, they realized that the "big iron" solution MDSI created was suitable for some of the largest telecom and utility companies in the world; it did not scale down to mid-sized organizations in price, functionality, or architecture.
While Doug stayed on at MDSI, Tom and Arthur left MDSI to work for eMobile, a company founded to provide web-based workforce management solutions for the utility industry. Based on their experience with MDSI and eMobile, Tom and Arthur were convinced that modern software architectures coming on stream in the mid-2000s combined with a market focus on smaller organizations was a tremendous market opportunity, so they founded Clevest.
Clevest has seen continuous success and growth since its inception. They have successfully used innovation as a central part of their corporate strategy. The following are key lessons from the approach Doug, Tom, and Arthur took:
A short product development time gives you a competitive advantage.
You have to commit to a single market segment early in order to differentiate and create market traction.
Match market needs, product vision, and innovation to beat your competitors.
Accelerate sales by innovating a product solution that can be fully demonstrated at customer sites and trade shows.
Clevest shows us how innovation has to be matched with market focus, products that meet real customer needs, and how innovation can differentiate you in the sales process.
These insights were taken from the Innovation chapter of my book Wind In Your Sails: Vital Strategies That Accelerate Your Entrepreneurial Growth. Learn more at windinyoursails.coachdjgreer.com.
Tags
:
Clevest
,
competitive
,
innovation
,
product