Posted by David Greer in Leadership, People | 0 comments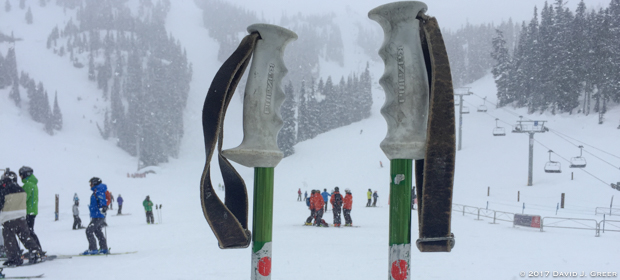 23.03.17
Karalee and I were riding up the gondola together first thing in the morning on Blackcomb Mountain. It was looking like a great ski day when one of the people we were randomly put together with looked over at our ski poles and said "those must be old–they still have leather straps." He was right.
My Kazama poles are forty years old. Looking at them reminded me of the two brilliant entrepreneurs, Bob Williams and Al Thomas, that I worked for in my youth. They had founded Leisure Time Distributors as a sporting goods wholesaler. Looking back forty years I now appreciate just how innovative and industry leading Bob and Al were.
Kazama was a Japanese manufacturer of downhill and cross country skis and poles. Bob and Al were the exclusive Canadian distributors for the product line. At a time when most ski equipment came from Europe or the US, Bob and Al had looked to Asia. The Japanese knew how to make durable products–my Kazama poles have lasted all those years, despite my falling on them more times than I can count. No matter how much abuse I've given them, they just keep going year after year.
Bob and Al were innovative in other ways too. This was the late 1970's when outsourcing manufacturing to Asian countries was not common practice. Every year, Al would create designs of ski gloves, jackets, and ski clothing of all kinds. He would then fly to Asia to visit the manufacturers Al had built relationships with. They took his rough designs to turn them into men's and women's ski clothing products. Al would come back with samples of his designs which Bob and he would take to the major ski shows so they could take orders for the following season.
At the time I had no idea of the innovation, creativity, business practices, and lead times that Bob and Al took in their stride. Year after year they delivered to their contacts in the sporting good retailers in Western Canada. As a naive 20-year old, I had the job of receiving container loads of boxes of clothing and ski equipment, which I was then responsible for shipping out to all the customers who had placed orders.
In today's world, we often get sucked into a story about innovation all being about technology, cloud computing, and smart phone apps. Innovation happens in business any time that you take an industry or business process and start doing the practice or process in a completely new way that no one has every done before.
I'm sure that Bob and Al were not the first to outsource production to Asia from Canada. I'm certain they were one of the pioneers who blazed a path for the rest of us. While both were innovating like crazy, their true gift was building relationships. Both with their retail customers and with their overseas manufacturers. Relationships that let them innovate in the sporting goods industry.
Tags
:
Asia
,
innovation
,
manufacturing
,
overseas